Welcome
This is the website for NALC Branch 84. Pittsburgh is the birthplace of Unionism (Homestead) and the movement is still alive and kicking here. We believe that communication is the key to a successful Union and a local website for letter carriers is an excellent way to communicate, inform and hopefully inspire the next generation of activists. The national website at www.nalc.org is an excellent source of information concerning national issues. The goal of this website however is to target the southwestern Pennsylvania letter carriers and inform them of our local issues.
Any suggestions to improve this website are welcome by contacting us via email by clicking the "Contact" link above.
2018 Food Drive
Another successful food drive is in the books. The 26th annual Food Drive was held on Saturday May 12th. The carriers of Branch 84 collected 1,145,439 pounds of food this year. The Food Drive is held annually on the second Saturday in May each year. This is a community outreach effort of the National Association of Letter Carriers to help those that are not as fortunate as we are.
Spring Golf Outing
Sunday May 6, 2018 the Spring Golf Outing was held at the Pheasant Ridge Golf Course. There were 17 teams of 4. There were Skilled/Door prizes, 50/50, Prizes for closest to the pin, longest drive, longest putt.
US Postal Service Federal Credit Union
US Postal Service Federal Credit Union is available for all your banking and financing needs.
They are conveniently located within the GMF
You can reach them directly at:
US Postal Service Federal Credit Union
1001 California Ave
Pittsburgh, Pa 15290
1-800-877-7328 Ext 5002,5003,5010
at: https://www.uspsfcu.org
Or by clicking here
News
The Pittsburgh Social-Recreation Committee has a new website! You can access that site by clicking here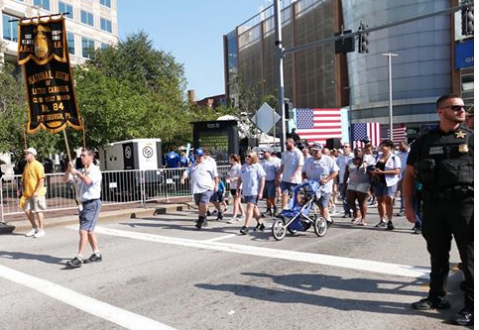 Proud marchers in the 2016 Labor Day Parade!
MAILING ADDRESS:
NATIONAL ASSOCIATION OF LETTER CARRIERS BRANCH 84
841 CALIFORNIA AVENUE
PITTSBURGH, PA 15212
PHONE NUMBERS:
(412) 321-3795
(412) 321-3796
(412) 321-3830
(800) 872-2338 (TOLL-FREE)
FAX: (412) 321-4955
OFFICE HOURS:
MONDAY THROUGH FRIDAY - 8:00am TO 5:00pm