Welcome
This is the website for NALC Branch 84. Pittsburgh is the birthplace of Unionism (Homestead) and the movement is still alive and kicking here. We believe that communication is the key to a successful Union and a local website for letter carriers is an excellent way to communicate, inform and hopefully inspire the next generation of activists. The national website at www.nalc.org is an excellent source of information concerning national issues. The goal of this website however is to target the southwestern Pennsylvania letter carriers and inform them of our local issues.
Any suggestions to improve this website are welcome by contacting us via email by clicking the "Contact" link above.
News
Labor Tracks Website: Branch 84 is utilizing this new technology to file and track grievances, as well as update your personal information. Are you having problems logging onto Labor Tracks For directions to gain access Click here.
CCAs Using Personally-Owned Vehicles (POV) to Perform Work: According to Question 77 of the CCA Questions and Answers (M-01833), CCAs are not eligible for Driveout agreements when using their own Personally-Owned Vehicles while delivering a route. However, it does not mean they should not be compensated at all, PS Form 8048 should be filled out and submitted to the VMF manager once a daily rate is agreed to by both the manager and the CCA.
Employment Verification Phone Numbers: Sometimes when you are applying for a loan, mortgage or other personal financial venture, there is a requirement from the financial institution to verify your employment or income. To verify employment, give the verifier your social security number and the USPS employer code - 12946 - and send them to www.theworknumber.com or have them call 1-800-367-5690.
For income history, you'll need to generate a salary key to give to the verifier. You can get that from the above wesite link or by calling 1-800-996-7566. Login using the employee option. You'll need the USPS employer code - 12946 - and your employee ID number. When prompted for a PIN, enter the last four digits of your Social Security number. Have pen and paper ready because you will be given a 6-digit salary key that you will need to provide to the verifier in need of your salary history. Give them the salary key and direct them to the website or they can call 1-800-367-5690 toll-free number. 95% of businesses use this system of employee and salary verification, banks are very familiar with this process.
USPS National Emergency Notification Hotline should be called when you suspect that foul weather may interupt normal USPS operations due to weather-related events. The number for this notification is: 1-888-363-7462. You will have to enter the first three digits of the zip code in which you currently work and it will tell you if there are any developments. Keep checking if the conditions worsen.
NALC FMLA Forms have been posted due to the National Level decision (M-01817 – 5/16/2013) regarding NALC FMLA forms. If, you need this form BEFORE you go to your doctor, you can download and print the new applicable FMLA form by clicking the appropriate link below.
Then mail to:
FMLA Specialist
PO Box 970905
Greensboro, NC 27497-0905
COLCPE contributions gives us the power to negotiate for wage increases (COLA's) and benefits we enjoy today. If you wish to continue to fight for these these and other issues into the future, you may want to consider donating to COLCPE. It only takes one stroke of the pen in Congress to eliminate six-day delivery and cause other apocalyptic events to happen. You can join COLCPE online by following the instructions listed here.
The Pittsburgh Social-Recreation Committee has a new website! You can access that site by clicking here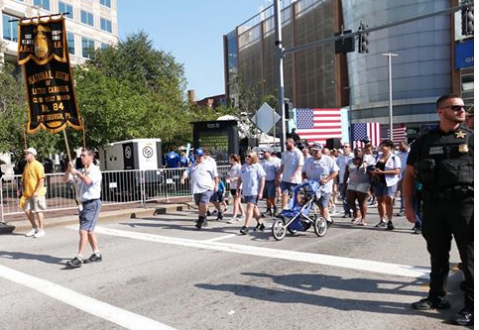 Proud marchers in the 2016 Labor Day Parade!
The Branch welcomes the following new members:
Point cursor onto Member Resources above then click Member Recognition on drop-down window for listings.