Welcome
This is the website for NALC Branch 84. Pittsburgh is the birthplace of Unionism (Homestead) and the movement is still alive and kicking here. We believe that communication is the key to a successful Union and a local website for letter carriers is an excellent way to communicate, inform and hopefully inspire the next generation of activists. The national website at www.nalc.org is an excellent source of information concerning national issues. The goal of this website however is to target the southwestern Pennsylvania letter carriers and inform them of our local issues.
Any suggestions to improve this website are welcome by contacting us via email by clicking the "Contact" link above.
Retirement Seminar Planned
The NBA's office is planning on holding a retirement seminar August 21st  , 22nd  23rd and 24th  2017.  This is open and free to all NALC members.  We welcome all active members and spouses, significant others, or friends
Four sessions of the same workshop are being offered.
August 21-23 @ 7Pm
August 24 @ 5PM (Branch meeting will follow)
All sessions will be held @ the NALC Branch 84 Building
841 California Ave
Pittsburgh, Pa 15212
Advanced Registration is Required.
Register early. These will fill up quickly.
To register, Call the Branch @412-321-3795 or email the Branch @ nalcbr84@nalc84.org with your
with your NAME, WORK SITE, PHONE NUMBER AND DATE YOU WILL LIKE TO ATTEND.
In preparation of the seminar we are asking those who are within 5 years of retirement to request an annuity estimate through liteblue as they will be used during the seminar.  If you are more than 5 years from retirement, you can still attend but since you cannot request an estimate we will provide you with a generic estimate to work from.  Please request one NOW as it takes 5 business days from the time they receive the request for you to get it in the mail (not sure how long after you submit it that they receive it).
 To request the estimate:
Log in to lite blue
At the homepage.
Click on My HR
Click on Browse by subject
Click on retirement
Click on apply
Click on request an annuity estimate
Look for a purple subject box quick link
Click on request an annuity estimate through e retire
Click on request date specific annuity estimate
Select a projected retirement date
Click submit
When dialog box shows up click ok
Return the next business to print   a copy of your estimate.
Bring copy of estimate to retirement seminar
US Postal Service Federal Credit Union
US Postal Service Federal Credit Union is available for all your banking and financing needs.
They are conveniently located within the GMF
You can reach them directly at:
US Postal Service Federal Credit Union
1001 California Ave
Pittsburgh, Pa 15290
1-800-877-7328 Ext 5002,5003,5010
at: https://www.uspsfcu.org
Or by clicking here
News
The Pittsburgh Social-Recreation Committee has a new website! You can access that site by clicking here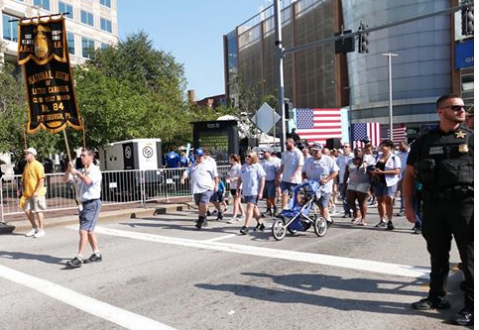 Proud marchers in the 2016 Labor Day Parade!
MAILING ADDRESS:
NATIONAL ASSOCIATION OF LETTER CARRIERS BRANCH 84
841 CALIFORNIA AVENUE
PITTSBURGH, PA 15212
PHONE NUMBERS:
(412) 321-3795
(412) 321-3796
(412) 321-3830
(800) 872-2338 (TOLL-FREE)
FAX: (412) 321-4955
OFFICE HOURS:
MONDAY THROUGH FRIDAY - 8:00am TO 5:00pm