Welcome
This is the website for NALC Branch 84. Pittsburgh is the birthplace of Unionism (Homestead) and the movement is still alive and kicking here. We believe that communication is the key to a successful Union and a local website for letter carriers is an excellent way to communicate, inform and hopefully inspire the next generation of activists. The national website at www.nalc.org is an excellent source of information concerning national issues. The goal of this website however is to target the southwestern Pennsylvania letter carriers and inform them of our local issues.
Any suggestions to improve this website are welcome by contacting us via email by clicking the "Contact" link above.
Bowling Event for MDA
Branch 84 is holding a Bowling event at North Versailles Bowl on Sunday April 15 2018 at 11:30 AM. This event benefits MDA and we will have food, refreshments, Door Prizes, 50/50/ after bowling is done. Cost is $15 per Person and ALL proceeds go to MDA!!!! Each Member may bring one guest.
Branch 84 Spring Golf Outing. I know the weather is miserable & gloomy, but before you know it we will be enjoying warm, sunny days. What better way to chase the winter blues away by thinking of our Annual Spring Golf Outing. We are tentatively setting up this Spring Golf Outing as promised by the great response at the Fall outing. Details have not been ironed out, we will communicate when they are. So Please start planning your foursome's and give us any suggestions and your possible interest/participation of this event. The Fall outing was a great success from the comments we received.
US Postal Service Federal Credit Union
US Postal Service Federal Credit Union is available for all your banking and financing needs.
They are conveniently located within the GMF
You can reach them directly at:
US Postal Service Federal Credit Union
1001 California Ave
Pittsburgh, Pa 15290
1-800-877-7328 Ext 5002,5003,5010
at: https://www.uspsfcu.org
Or by clicking here
News
The Pittsburgh Social-Recreation Committee has a new website! You can access that site by clicking here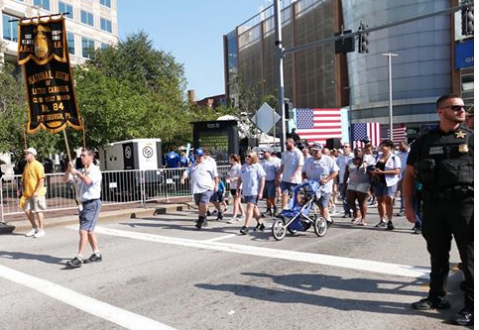 Proud marchers in the 2016 Labor Day Parade!
MAILING ADDRESS:
NATIONAL ASSOCIATION OF LETTER CARRIERS BRANCH 84
841 CALIFORNIA AVENUE
PITTSBURGH, PA 15212
PHONE NUMBERS:
(412) 321-3795
(412) 321-3796
(412) 321-3830
(800) 872-2338 (TOLL-FREE)
FAX: (412) 321-4955
OFFICE HOURS:
MONDAY THROUGH FRIDAY - 8:00am TO 5:00pm