Welcome
This is the website for NALC Branch 84. Pittsburgh is the birthplace of Unionism (Homestead) and the movement is still alive and kicking here. We believe that communication is the key to a successful Union and a local website for letter carriers is an excellent way to communicate, inform and hopefully inspire the next generation of activists. The national website at www.nalc.org is an excellent source of information concerning national issues. The goal of this website however is to target the southwestern Pennsylvania letter carriers and inform them of our local issues.
Any suggestions to improve this website are welcome by contacting us via email by clicking the "Contact" link above.
2016 Penalty Overtime Exclusion period
As referenced in Article 8, Sections 4 and 5 of the National Agreement between NALC and USPS, the December period during which penalty overtime regulations are not applicable consists of four consecutive service weeks.
This year, the December Penalty Overtime Exclusion period begins Pay Period 25-16, Week 2 (Dec. 3) and ends Pay Period 01-17, Week 1 (Dec. 30).
News
Branch 84 Election Results
President  *Ted Lee
Executive Vice President  Randy Ball (585) votes  George Reffert (281) votes
Vice President  *Patrick Rothwell
Secretary Treasurer  *Gary Bluestone
Asst. Secretary Treasurer   Marilyn Viggiano (651) votes Tommy Hein (221) votes
Health Benefits Rep.  *Alex Criego
MBA Rep.  *Carole Anne Connelly
Senior Trustee  *Dennis Kaminski
OWCP/Retirement Officer  *Joe Roman
Trustee's;                                                                                                                                                                                                                                                                         
                 *Ed Heide                 *Paul Mooney                                                                                                                                                                                                                      
Allegheny County Labor Council;
                 *Darryl Ulyas *Bob Muse
                 *Ron Blank *Dave Bugay
                 *Dave Zavask
The Election committee counted the votes for the two contested offices on 11/18/2016. The vote tallies show the winner for each office as Ball & Viggiano.
*indicates elected by acclamation.
The Pittsburgh Social-Recreation Committee has a new website! You can access that site by clicking here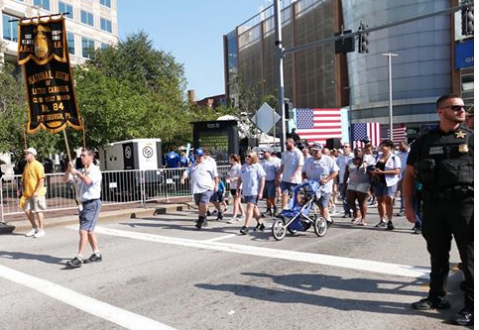 Proud marchers in the 2016 Labor Day Parade!
The Branch welcomes the following new members:
Point cursor onto Member Resources above then click Member Recognition on drop-down window for listings.