Welcome
This is the website for NALC Branch 84. Pittsburgh is the birthplace of Unionism (Homestead) and the movement is still alive and kicking here. We believe that communication is the key to a successful Union and a local website for letter carriers is an excellent way to communicate, inform and hopefully inspire the next generation of activists. The national website at www.nalc.org is an excellent source of information concerning national issues. The goal of this website however is to target the southwestern Pennsylvania letter carriers and inform them of our local issues.
Any suggestions to improve this website are welcome by contacting us via email by clicking the "Contact" link above.
This notice will serve as notification to the membership of nominations for two(2) PA State Association of Letter Carriers Executive Board positions.  Nominations will be held at the Branch meeting on October 20, 2016 at 7:00 p.m.  Should there be more than two nominees, an election will be held during the meeting to choose two board members.
News
District Safety Blitz
If you haven't already been approached while on your route by a member of the District Safety Task force, there is a very good chance you will. Apparently, the Western PA District safety record is one of the worst in the country. Management is aggressively seeking to reverse that trend. Dozens of management teams are out on the streets, randomly checking carriers and observing proper safety procedures. An example of what they are documenting on one day is as follows: Total number of observation 232, number of infractions 141, Top 3 infractions - 1) Wheels not curbed 52, No dog spray/satchel 40, Park location requiring backing 12. Other violations that are being identified: Parking brake not set, vehicle not secured, door open, seatbelt not fastened, turn signal violation, cell/phone head set, headlights not on, no driver license, STOP sign violation, vehicle not inspected, driving too fast for current conditions, not verifying surroundings before pulling out, footwear, tailgating, not using four-way flashers, mail stacked on tray and driving on a sidewalk. These safety observations are in addition to regular street observations being performed by your local supervisors, managers, and Postmasters. Letter Carriers are being disciplined for these infractions. Please, do your job as safely and professionally as possible every day. Management is hypocritical when they expect perfection when it comes to safety, and simultaneously push Letter Carriers to make the numbers. If adhering to these safety practices causes more time to complete your daily assignments; inform your supervisor. The union will be far more successful defending our members for an alleged expansion of street time for adhering to safety rules and regulations, than representing our members for legitimate safety violations and infractions. Do your job every day as a professional Letter Carrier.
The Pittsburgh Social-Recreation Committee has a new website! You can access that site by clicking here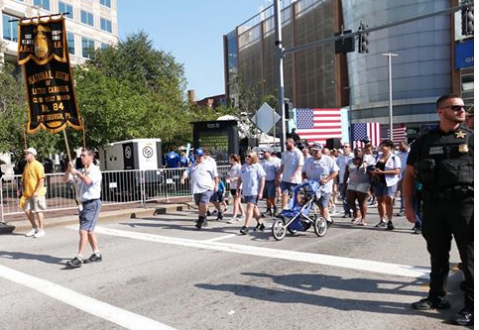 Proud marchers in the 2016 Labor Day Parade!
The Branch welcomes the following new members:
Point cursor onto Member Resources above then click Member Recognition on drop-down window for listings.